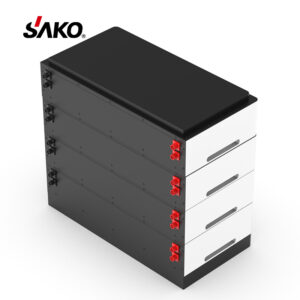 When the high cost of electricity and high dependence on the grid for power becomes a hindrance to the smooth running of life, production and operation, it is time for us to make a transition in our way of living. The SAKO's off-grid solar system is the best solution to achieve this new transformation. Let's start the journey to get closer to this system.
The brief introduction of SAKO off-grid solar system
The SAKO System consists of a series of solar pv modules that are mounted on a rooftop or other location in order to generate electricity. The modules are connected to an off grid hybrid inverter, which converts the sunlight into usable electricity. Equipped with lifepo4 battery pack is also its highlights.
The advantages of SAKO off-grid solar system
Not connected to the electrical grid, off-grid solar power systems are independent of the grid and can generate their own electricity. The main advantage of off-grid solar power systems is that they can provide electricity even when the grid fault comes down the pike, since they store their own energy in batteries.This means that you will still have power even if there is a power outage. Off-grid systems also give you more control over your energy use since you are not relying on the grid. You can choose how much energy you use and when to use it.
How to Install an off grid solar power system
Installing an off grid solar power system is a great way to break free from the grid and become self-sufficient. Here are some tips to help you get started:
Determine your energy needs: The first step is to determine how much energy you need to generate in order to meet your needs. This will help you determine the size and scope of your project.
Choose the right location: Once you know how much energy you need, you can start looking for the perfect location for your solar panels. Keep in mind that you'll need a sunny spot with little or no shade.
Mount your panels: Once you've found the perfect location, it's time to mount your solar panels. Make sure they're securely attached and tilted at the correct angle to maximize sun exposure.
Connect your components: Now it's time to connect all of your components together. This includes connecting your solar panels to an inverter, which will then be connected to batteries (if using batteries) or directly to your home's electrical panel (if not using batteries).
Monitor your system: It's important to regularly check your system and make sure everything is working properly. You should also keep an eye on the weather forecast so that you can be prepared for any potential power outages.