Old batteries that have been used for a long time are still frequently used. Thus, it's time to change! This article highlights the four advantages of SAKO's high quality lithium ion battery and how they may enhance people's lives.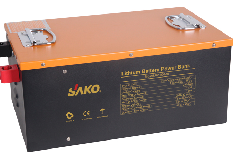 What are the lithium-ion batteries from SAKO?
The lithium-ion batteries SAKO makes are some of the most dependable and safest on the market. They may be found in many gadgets, including mobile phones, and have a longer lifetime.
The lithium-ion batteries made by SAKO consist of several cells that work together to generate power. Battery packs include batteries that are wired together.
SAKO's lithium-ion batteries are often utilized in solar systems. However, when utilized in tiny appliances, the comparatively high stability makes them more dependable and safe.
Utilizing lithium-ion batteries from SAKO has several advantages.
Strong and has a longer battery life
Large capacity and little self-discharge
Small size
Outstanding quality
Compared to lead-acid batteries used in conventional cordless tools, SAKO's lithium-ion batteries are safer and last longer since they utilize the most recent lithium manganese oxide technology. The special formula also enables quicker cycle chargers and greater discharge rates, resulting in special tools for cutting overall charging time.
Why use lithium-ion batteries from SAKO?
Since its founding in 1993, SAKO has spent the last 28 years concentrating on manufacturing power supplies in China, offering complete solutions for producing components, inverters, controllers, batteries, etc. Additionally, we have production facilities in Shenzhen, Dongguan, Hangzhou, Wenzhou, and other locations. A national high-tech company, SAKO, has been named China's Excellent Manufacturer for 2020.
Among the most well-liked lithium-ion batteries available are those made by SAKO. They are utilized often in goods that need to be durable and very dependable.
The longevity of SAKO batteries is one of its advantages. Because SAKO batteries are made using high-quality materials and follow a precise manufacturing process, batteries often endure for years before being changed.
The versatility of SAKO Li-ion batteries is another advantage. They may be utilized in various devices, including household appliances, computers, and mobile phones.
The lithium-ion batteries made by SAKO are also quite potent. They hold a lot of energy and may swiftly release it when required.
Conclusion
In general, the best lithium-ion battery on the market is made by SAKO. They are strong and adaptable. The Li-Ion batteries from SAKO are ideal if you're searching for a battery to suit your particular requirements.