Choosing the appropriate inverter is crucial, whether you're looking for a new way to power your house or need to add solar power to your business. In this blog post, we'll look at the various advantages accessible as well as the factors you should take into account when choosing the finest home solar solution for your needs.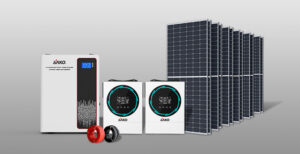 What is a solar inverter?
A solar inverter is a tool that aids in the conversion of solar energy into useful power. When there is no grid access or in distant locations, they are used to power tools, lights, and other equipment.
Important benefits of solar inverter
– Increased Energy Efficiency: An inverter is a fantastic way to increase the energy efficiency of your home. Even while solar panels produce a lot of energy, it's not necessarily necessary to use them right away. You may store the power and use it later by coupling them to an inverter. In the long term, this can save you a ton of money.
– Reduced Emissions: Solar energy is one of the most environmentally benign sources of energy available. It reduces emissions. By transforming solar energy into useful electricity with an inverter, you may lower your emissions. This is a major advantage, particularly if you reside in a location where clean energy is hard to come by.
How to pick an ideal solar inverter?
It's crucial to pick the appropriate inverter when installing solar panels. The following advice will help you select the ideal inverter for your requirements:
-Select an inverter with sufficient capacity. Your solar panels will be able to generate more power the more watts (watts are units of power) your inverter can create. Verify that the inverter's wattage and the solar panels' wattage are the same.
-Seek out inverters like SAKO solar inverters, which have a solid reputation. After all, you want your solar panel investment to survive as long as it can. Find an inverter that has received good evaluations from other consumers.
-Read the manufacturer's instructions carefully. You can learn everything you need to know about the inverter's strength and effectiveness from these.
Conclusion
It's crucial to do your homework and choose the correct inverter if you want to invest in solar energy. Because not all inverters are made equal, choosing the incorrect one could result in your system costing you more than necessary. In this post, we'll go over some important things to think about when looking for an inverter and guide you toward making the best decision possible. Sako has had remarkable success in this industry and a ton of expertise. You can get in touch with Sako for additional specific information if you have any requests or questions. Gratitude for reading!