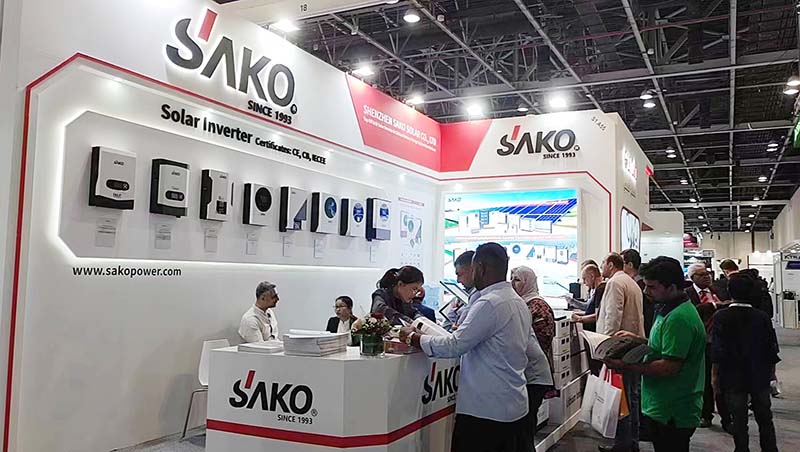 Middle East Energy provides a unique platform for energy leaders to debate and shape the future. Experts from across the region and beyond join forces to plot the best route through the energy transition. Visitors can put new technologies under the microscope and refine their own energy strategies.. Sako has joined the Middle East Energy not only to display our new products and technologies but also to seek more opportunities for cooperation. With our booth S1,A55, our products exhibited, and our expertise demonstrated, both the fellow exhibitors and participants seeking the topmost products were amazed.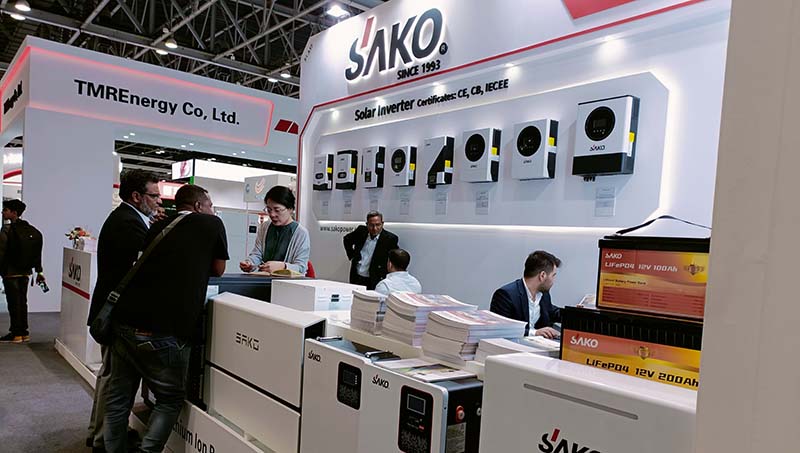 SAKO's Fist Products in the Middle East Energy
The products displayed at the Middle East Energy are:

SUNON IV /8KW Hybrid Solar Inverter:
As an intelligent power converting machine that works between solar panels, utility grid, and storage system (batteries), a hybrid solar inverter works between solar panels, utility grid, and storage system (batteries). As its name suggests, the hybrid solar inverter simultaneously accommodates grid connectivity, battery storage, and solar panel array. SUNON IV 8KW Hybrid Solar Inverter are the heavy hitters of the show. SUNPOLO 8KW Hybrid Inverter is a three-in-one inverter, which means it can serve simultaneously as MPPT inverter, on/off grid inverter and hybrid inverter. This Sako hybrid solar inverter supports self-consumption, while allowing feed-in to the grid. The smart BMS with communication protocol for lithium battery enables it to work with lithium battery. With a touchable LCD screen and status LED ring with RGB lights, SUNPOLO 8KW Hybrid Solar Inverter significantly reduces the operation difficulty. Finally, these hybrid solar inverters are good for paralleling up to extra pieces of kits.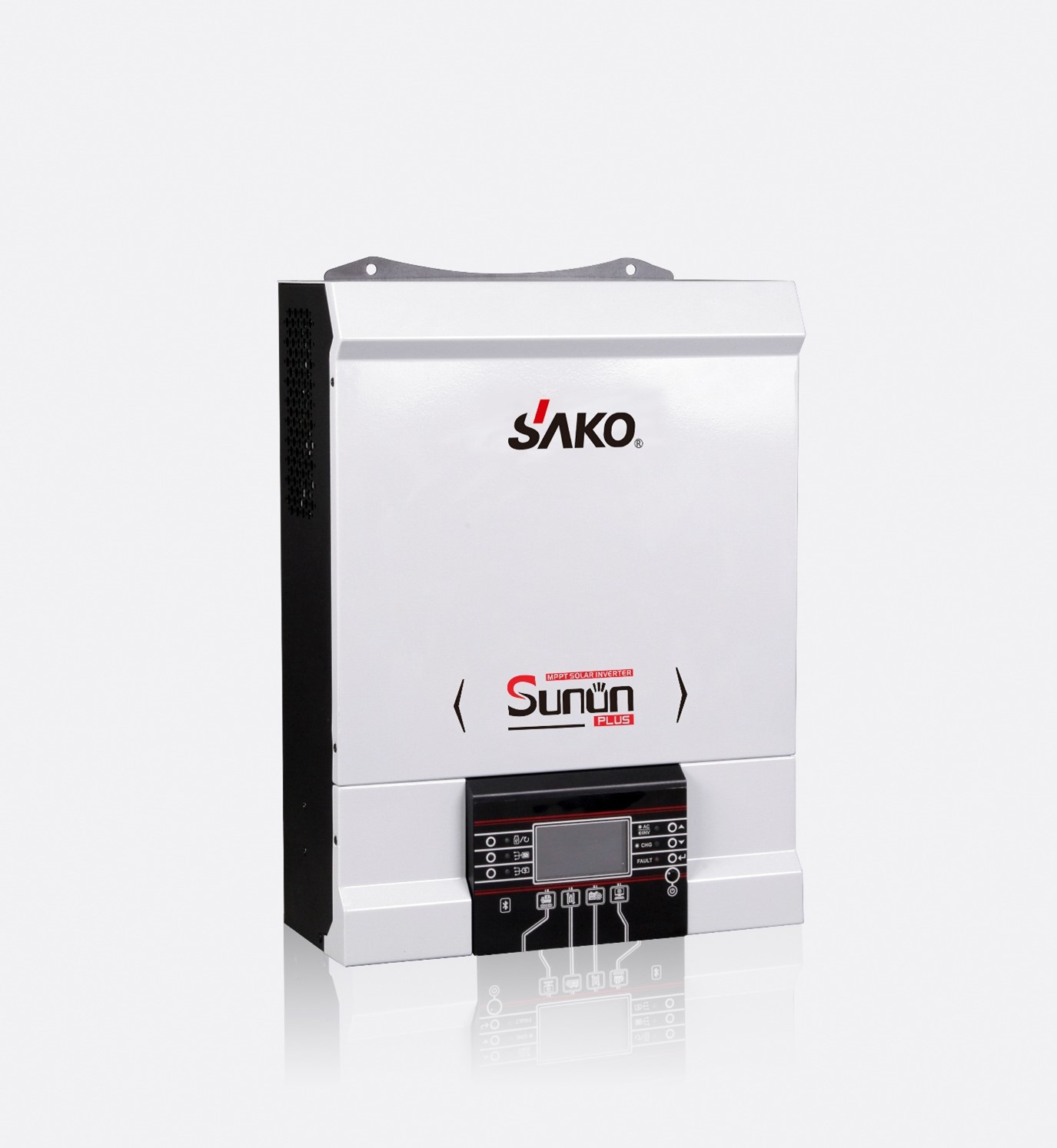 SUNON IV 3.6KW/5.6KW Off-grid Solar Inverter
The off-grid inverter refers to that that only converts power from DC to AC without synchronizing power to grid levels, a feature that makes it more suitable to be installed in rural areas with no connectivity to a power distribution network, or for the consumers to create off-grid solar power systems themselves. Serving such purposes, SUNPOLO IV Off-Grid inverter is one of the strongest players in the market. This off-grid inverter also comes with a Touchable LCD and status LED ring with RGB lights to make the review, management and operation more convenient. Apart from Smart BMS with communication protocol for lithium battery, SUNPOLO IV Off-Grid inverter is designed with a WIFI monitor built inside.
24V/200A, 48V/200A New Competitive Wall-Stand Lithium Battery Pack
This SAKO Lithium Battery Pack with 25.6V 200Ah supports both the wall stand and wall mounted, two common ways to install the battery. The renowned cell BYD inside this lithium battery promises strong and reliable quality. Not only does it work well, but it also works long, as it enjoys cell cycles as high as 5000! We offer this battery a 5-year warranty to show our confidence in its longevity and strength.
We are also happy to introduce our SAKO Wall Stand Lithium Battery Pack with 51.2V 200Ah, with its eye-catching ultra-thin OPC design! Other than the merits mentioned above, this lithium battery has a LED ring with RGB lights and a WIFI monitor, which is good for frequent checking and operation.
48 Volt Lithium-ion Battery 100A 200A With 6000 Cycles
If the battery packs above are not appealing enough, this High-Quality 48 Volt Lithium Battery Pack can surely satisfy your needs. The superior CATL new cells inside are the synonym of quality. This battery back is not just designed to look cool with its space-saving exterior, high density, small size and weight, but also designed to work longer, as it enjoys 6000 cells cycle times and a life cycle over a decade, with a 5-year warranty. The smart BMS of it enables the batter pack to communicate with different brands of hybrid solar inverters, granting it nature of super compatibility.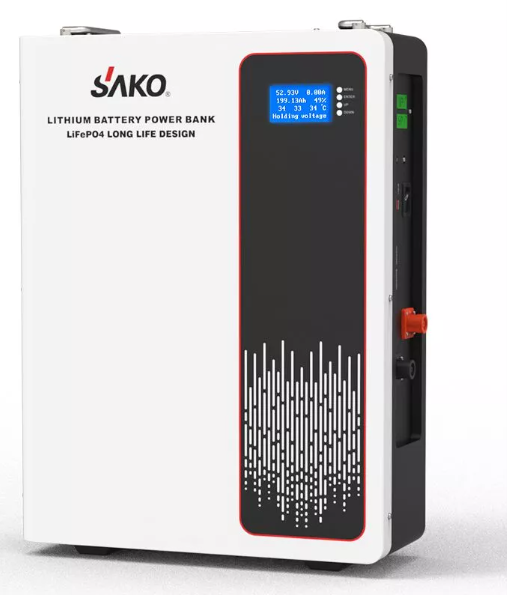 Sako's Next Session
Middle East Energy is but a glimpse of our journey. Founded in 1993, Sako has come through ups and downs in the past decades. Yet, we have always devoted ourselves to developing top-of-the-line products with cutting-edge technologies, and offering the best products and services to our customers in the coming years.