SAKO, a renowned solar energy company, had a significant presence at the International Solar EES Europe Exhibition in Germany in 2023. As one of the largest and most prestigious solar energy exhibitions in the world, this event provided a platform for SAKO to showcase its innovative products, technologies, and solutions in the field of solar energy.
At the exhibition, SAKO's booth was strategically designed to attract visitors and create an immersive experience. The booth featured stunning visual displays, interactive demonstrations, and informative presentations that highlighted the company's commitment to sustainable solar energy solutions.
SAKO showcased its latest range of micro inverter, hybrid inverters, and lithium battery storage systems, which incorporated cutting-edge technologies, including advanced Lithium-ion battery core materials, high-efficiency conversion rates, and smart energy management systems. Visitors were given the opportunity to explore and understand the features, benefits, and applications of these products through live demonstrations and expert consultations.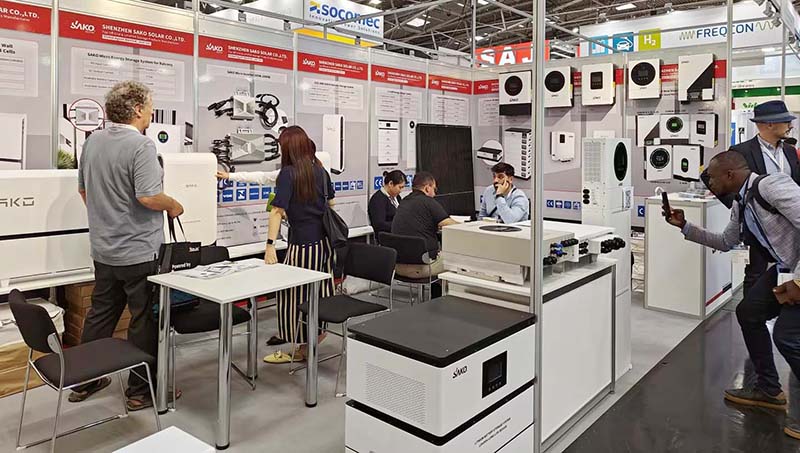 In addition to the product showcase, SAKO actively participated in panel discussions, seminars, and workshops conducted during the exhibition. SAKO's experts shared their knowledge and insights on various solar energy topics, such as the integration of solar power into smart grids, the optimization of solar energy systems for commercial and residential applications, and the future trends in the solar industry. SAKO's engagement at the International Solar EES Europe Exhibition 2023 was not limited to showcasing their products and expertise. The company also utilized this platform to strengthen its partnerships and collaborate with international solar energy leaders, industry professionals, researchers, and potential clients. SAKO's representatives networked extensively, forged valuable connections, and explored potential business opportunities. Overall, SAKO's participation in the International Solar EES Europe Exhibition 2023 was a resounding success. The event enabled the company to establish itself as a prominent player in the global solar energy market, amplify its brand reputation, and demonstrate its commitment towards a sustainable and renewable energy future.