The inverter off-grid 5kw is an excellent response to the exponentially growing demand for alternate energy sources. You may generate power using this top-notch product whether you're in the midst of a desert or out at sea. This article explains how an off-grid converter can improve your quality of life.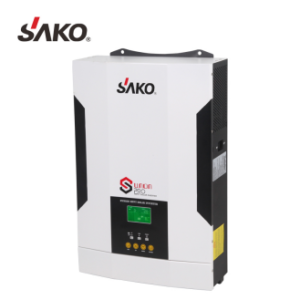 Introduction of off-grid inverter
A form of energy storage equipment known as an off-grid inverter enables users to store energy from renewable sources, such as solar and wind, for use when the power grid is unavailable. When the electricity grid is unavailable, residences and businesses can also be powered by off-grid inverters.
What advantages can off-grid inverters offer?
The ability to store energy from renewable sources is the key advantage of employing an off-grid converter. This can be utilized in situations where the power grid is unavailable or unreliable. When the electricity grid is unavailable, off-grid inverters can also be used to power residences and commercial buildings.
What advantages can an off-grid inverter 5kw offer?
You can run a modest home or business on the power from a 5 kw off-grid converter. They are excellent investments for anyone who wants to lessen their carbon impact and are ideal for those who wish to take control of their energy.
There is undoubtedly an off-grid inverter that is ideal for you because they are available in a variety of sizes and capabilities. One of the more well-liked types is the SAKO 5kw off-grid inverter.
Using an off-grid inverter has numerous advantages, including:
They are inexpensive; off-grid inverters are both cost-effective and environmentally friendly when compared to conventional electricity sources.
Off-grid inverters emit no emissions, in contrast to conventional generators, hence they produce clean energy. This makes them a wonderful option for those who want to lessen their influence on the environment.
Off-grid inverters can help you save money on your monthly electricity bill since they give your home or business enough power to operate without relying on the grid.
The best off-grid inverter for your project: how to choose
There are a few factors to take into account when installing an off-grid inverter. What your project will need is the first thing you need to decide. Off-grid inverters can be used to power a small house or company or to supply backup power for a major corporation, among other things. You can start looking for the ideal model after you are aware of your inverter's purpose.
A few things should be taken into account while selecting an off-grid inverter. You should first consider the scope and impact of your project. Second, you must choose whether you want an inverter that draws its power from renewable resources.
The type of installation you will use the inverter for must also be decided. If you're doing the inverter installation yourself, you'll need to take into account your level of ability as well as the inverter's size and weight. Ask about their experience installing off-grid inverters if you're hiring someone else to do it.
If you want to buy an off-grid inverter 5kw, don't be hesitant to get in touch with SAKO for the best one.