This blog post discusses the significance of locating a reputable and knowledgeable solar inverter supplier. You must look for a company with an excellent track record and reliable items.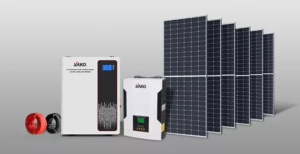 Introduction
One of the most crucial elements to consider when building a solar system is locating a dependable solar inverter manufacturer. Solar inverters are responsible for converting the sun's energy into usable electricity and are an essential component of your solar installation. It's critical to locate a manufacturer you can rely on to deliver high-quality goods and services.
What Are the Advantages of Using a Solar Inverter?
A solar inverter is an essential component of a solar system. It contributes to the conversion of direct sunlight into useful electricity for your home or company. Solar inverters can also help you save money on your energy bill by lowering your reliance on the grid.
The following are some of the advantages of using a solar inverter:
Lower monthly energy bills – Solar inverters can minimize your reliance on the grid, resulting in lower monthly energy expenses.
Increased power generation – When your solar panels create more power, you may utilize it for things like lighting and appliances instead of selling it back to the grid. This can help you save money on your energy bill while also protecting the environment.
Added security – In the event of a power outage or emergency, your solar inverter will still be able to power vital appliances and electronics in your home. During an emergency, this could keep you secure and comfortable.
What Characterizes a Reliable Solar Inverter?
Solar inverter manufacturers who may be trusted should have a track record of providing high-quality products. They should also maintain strict quality control techniques to assure the highest possible quality of solar inverters.
The guarantee offered by a reputable solar inverter manufacturer is an important consideration. A good warranty will cover any problems in the product during the inverter's lifetime. This gives you peace of mind since you know that if something goes wrong with your solar inverter, the manufacturer will take care of it.
Customer service is another crucial thing to consider when selecting a reputable solar inverter manufacturer. If you have any problems with your solar inverter, contact the manufacturer's customer service department for assistance. Poor customer service can cause dissatisfaction and may influence your decision to buy a product from a specific company.
Conclusion
When it comes to solar energy, dependability is essential. That is why it is critical to select a reliable source. I've selected some of the greatest solar inverter manufacturers in this article so that you can make an informed selection when selecting a supplier. SAKO is a reputable supplier of solar inverters; please contact us.