Whether you're a homeowner looking to install solar panels or a large company that wants to install solar power for your commercial building, there are many reasons why you need a reliable solar inverter manufacturer. Considering how expensive and complicated the process can be, you must find one that has an excellent reputation.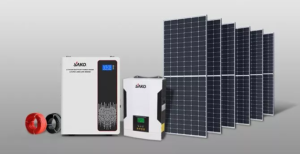 Why You Need A Reliable Solar Inverter Manufacturer
Looking for a reliable solar inverter manufacturer? If you're like many homeowners, you want to make sure that your solar inverter is going to work when you need it to, and that it's built to last. In this article, we'll discuss some reasons why you need a reliable solar inverter manufacturer in your life, and how they can benefit you.
First and foremost, a good solar inverter manufacturer will provide support for their products. If something goes wrong with your inverter, the manufacturer will be there to help fix the issue. This level of support is key if you plan on relying on your inverter system to generate electricity for your home or business.
Another reason why choosing a reliable solar inverter manufacturer is important is because they have experience manufacturing high-quality products. Many of the leading manufacturers have years of experience in the renewable energy industry, which gives them an advantage when it comes to creating quality solar inverters. They know what works and what doesn't, which makes for smoother overall operations when using your inverter system.
In addition to having years of experience, reputable manufacturers also have a strong track record when it comes to customer service.
Why you should choose SAKO
SAKO has a professional technical team to provide solutions and services and has developed after-sales service centers and agents in some countries to relieve customers from worries.
SAKO is factory direct sales, reducing intermediate links, and the price and products are more competitive.
SAKO has high quality and ranks among the best in the off-grid photovoltaic products industry, with stable and reliable quality and a good reputation.
SAKO has a powerful factory to produce the main components required by the solar system: inverters, energy storage lithium batteries, and photovoltaic modules. SAKO is well aware of each main feature and matching of solar system products, provides better matching of solar products, provides customers with one-stop procurement, and provides quality assurance for the entire system.
SAKO has strong research and development capabilities, and has 3-4 new products every year, keeping up with market demand.
SAKO is very professional. SAKO was founded in 1993 and has 29 years of experience in the power supply industry, with rich industry experience.
SAKO has complete qualifications, the company has ISO certification, and its products have CE, CB, TUV (components), and MSDS (battery) UN38.3 (battery) certification, which meets the needs of multiple markets for customs clearance certificates.