The world of off grid solar is complicated, with numerous options to consider. However, if you're looking for a dependable and cost-effective way to power your home or business, the SAKO 3kva off grid solar inverter is the ideal solution.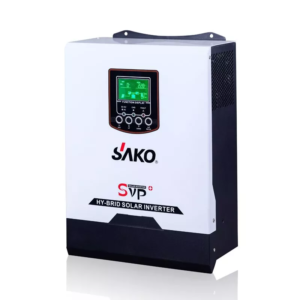 What are the advantages of solar energy?
There are numerous advantages to using solar power to power your home. Solar energy is free, renewable, and available at all times. By reducing your reliance on the electric grid, solar energy can help you save money on your energy bills. Solar energy is also environmentally friendly because it emits no greenhouse gases. Furthermore, solar power is dependable and can be relied on regardless of the weather. Finally, solar energy gives you a sense of independence from the power grid.
What is the purpose of a 3kva off grid solar inverter?
The most popular type of solar inverter is the 3kva off-grid solar inverter, which can provide enough power to power a small home or business. It generates usable electricity by converting direct sunlight into photovoltaic cells. This inverter is ideal for people who require backup power, live in areas without reliable grid service, or prefer to use renewable energy.
Why should you go with SAKO?
SAKO is a factory direct sales company that reduces intermediaries while increasing price and product competitiveness.
SAKO possesses both strong R&D capabilities and high quality. To meet market demand, SAKO introduces three to four new products per year. Off-grid photovoltaic products from SAKO are among the best in the industry, with consistent and dependable quality and a positive reputation.
To address customer concerns, SAKO has a professional technical team to provide solutions and services, as well as after-sales service centers and agents in some countries.
SAKO is a consummate professional. SAKO, which was founded in 1993, has extensive industry experience and 29 years of experience in the power supply industry.
SAKO has a strong factory that can manufacture the main components of a solar system: inverters, energy storage lithium batteries, and photovoltaic modules. It understands each main feature and matching of solar system products, and the matching of solar products provided is better, allowing customers to purchase the entire system from a single source.