Do you want to take control of energy needs and embrace a sustainable future? Look no further than SAKO for off-grid solar battery storage! In this blog post, we will delve into the reasons why investing in SAKO is a smart choice for anyone seeking reliable and eco-friendly energy solutions. From our cutting-edge technology to incredible efficiency, get ready to discover why we should be at the top of your investment list.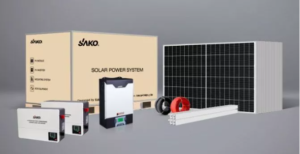 Introduction to SAKO
SAKO is a professional manufacturer engaged in developing, producing, and selling power & solar energy products. With 29 years of industry experience, core technologies, and multiple factories, SAKO can provide you with complete solar energy storage system solutions.
We manufacture various products include home inverters, solar inverters, solar panels, lithium battery packs, and solar energy storage systems. Because we manufacture all components of solar systems, we have an advantage in terms of cost control and quality control.
Benefits of Investing in SAKO for Off-Grid Solar Battery Storage
Investing in SAKO for your storage needs is a smart choice for a number of reasons. Here are just a few of the benefits that you'll enjoy when you make the switch to our batteries:
Increased Energy Efficiency
Our batteries are designed to be highly efficient, meaning that they require less energy to charge and discharge than other types of batteries. This results in lower electricity costs for customers and helps to prolong the life of batteries.
Rugged Construction
Our batteries are built tough to withstand the rigors of off-grid living. Whether you're dealing with extreme temperatures or rough terrain, these batteries will stand up to the challenge and keep your business powered up.
Long lifespan
Our batteries are designed for long-term use, with a lifespan that significantly exceeds that of other types of batteries on the market today. This means that you can count on your investment in SAKO to pay dividends for years to come
Conclusion
Investing in SAKO for off-grid solar battery storage is a smart choice due to its long life cycle, cost efficiency and advanced safety features. With a wide range of solutions available, you are sure to find the perfect solution for your needs. As well as helping you save money on energy bills and reduce your carbon footprint, these batteries will help keep your lights on during power outages so that you can continue living comfortably even when the grid goes down.