Are you looking to optimize the performance of your solar system? At SAKO, we offer the best 8KW hybrid inverter that can help you achieve this. Our hybrid inverter has advanced technology, advanced PV monitoring features, user-friendly design, and more. Here's why our inverter is the perfect choice for your solar system.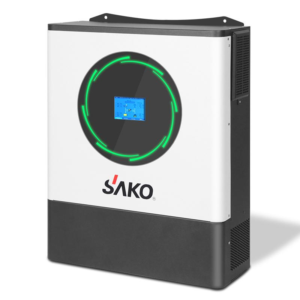 High-Powered and Efficient Technology
Our best 8KW hybrid solar inverter has a high PV input of up to 120AMPPThigh, making it possible to generate and convert a high volume of solar energy into usable electricity. This inverter boasts dual MPPT trackers for optimized solar energy utilization, enabling you to harness the maximum potential of your solar panel system. Moreover, it supports user programmable multiple operation modes, allowing you to customize it according to your specific needs and requirements. The flexibility that comes with the programmable modes ensures that the inverter fits optimally into any solar system configuration.
Advanced PV Monitoring Features
SAKO's best 8KW hybrid solar inverter features advanced PV monitoring features that display detailed PV information for effective system management. With such data, you can monitor the performance of your solar panel system in real-time. Additionally, it has a smart BMS built inside that helps make it compatible with lithium batteries. This feature is essential in ensuring the longevity of the battery and preventing battery failure due to overcharging or undercharging. Furthermore, the inverter supports battery-less work and parallel-able up to 6pcs, providing added power capacity and flexibility.
User-Friendly Design for Convenience
We understand that convenience and ease-of-use are important factors when operating a solar system. Therefore, our 8KW hybrid inverter has a bigger size LCD display with MFD setting for effortless operation and improved visibility. This makes it easy to operate the inverter even in low-light conditions. Moreover, it supports AC+Solar charging biggest current 50A for efficient energy utilization. Additionally, our inverter is compatible with various types of batteries, including lithium-ion and gel batteries. This feature enables you to enjoy versatile usage in various applications.
At SAKO, we are committed to delivering high-quality products and exceptional customer support. Our team of experts is always available to answer any questions you may have and provide helpful guidance when needed. We take great pride in our work and strive to exceed our customers' expectations.
Conclusion
In conclusion, SAKO's best 8KW hybrid inverter is the ideal choice for your solar system, offering advanced technology, advanced PV monitoring features, and user-friendly design for optimum performance. With its high-powered and efficient technology, you can rest assured that you will enjoy uninterrupted power supply irrespective of your energy consumption. Trust us to provide you with a sustainable and environmentally friendly solution that delivers optimal performance and takes your energy needs to the next level. Choose SAKO today and experience the difference in quality and performance.