If you're considering setting up a solar system and looking for a reliable, efficient, and user-friendly inverter, you've come to the right place. At SAKO, we offer the best 8KW hybrid inverter that will meet all your energy needs. Here's why our best 8KW hybrid inverter is the ideal choice for your solar system.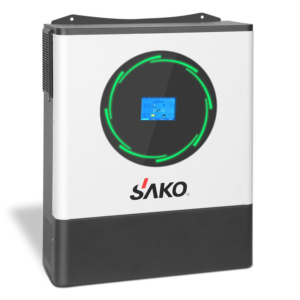 Advanced Technology for Optimal Efficiency
Our SUNPOLO 8KW hybrid solar inverter features advanced technology that delivers optimal efficiency in converting solar energy into usable electricity. With its dual 18A MPPT trackers and an input power of up to 8,000W, our best 8KW hybrid inverter can efficiently handle a high volume of solar energy. This allows you to enjoy uninterrupted power supply irrespective of your energy consumption. Our touchable LCD screen and status LED ring with RGB lights make it easy to monitor and operate, even in low-light conditions. Additionally, it supports user-programmable multiple operation modes, allowing customization according to specific needs and requirements. This feature ensures that our best 8KW hybrid inverter optimally fits into any solar system configuration.
Versatile and Reliable Inverter Capabilities
Our best 8KW hybrid inverter offers real hybrid capabilities that can feed into the grid, ensuring maximum efficiency and longevity. The ability to feed into the grid makes it possible to earn credits from the excess power generated by your solar panel system. This provides you with a steady income stream while reducing your carbon footprint. Our best 8KW hybrid inverter also works with or without a battery, giving you the flexibility to choose what suits your energy needs the best. Moreover, it is parallel-able up to 6pcs optional, offering added power capacity and scalability as your energy needs grow. Whether you are powering your home, business, or running a large-scale commercial project, our inverter can provide the needed energy.
User-Friendly Design for Convenience
At SAKO, we understand that a user-friendly design is crucial to maximizing the benefits of your solar system. Our best 8KW hybrid inverter features a smart battery management system with a reserved communication port for BMS, ensuring better battery management and longer battery life. This feature prevents battery failure due to overcharging or undercharging. We also offer an optional WIFI monitor for remote monitoring, enabling you to access crucial system performance data in real-time, from anywhere. This provides you with complete control over your solar system while giving you peace of mind. Additionally, our best 8KW hybrid inverter supports various communication options including USB/RS232/RS485/Dry-Contact/WIFI for seamless integration with other devices and systems.
At SAKO, we are committed to delivering high-quality products and exceptional customer support. Our team of experts is always available to answer any questions you may have and provide helpful guidance when needed. We take great pride in our work and strive to exceed our customers' expectations.
Conclusion
In conclusion, SAKO's 8KW hybrid solar inverter is the best choice for your solar system, offering advanced technology, reliability, versatility, and user-friendliness. Trust us to provide you with a sustainable and environmentally friendly solution that delivers optimal performance and takes your energy needs to the next level. By choosing SAKO as your partner in energy, you can enjoy uninterrupted power supply while contributing to a cleaner and more sustainable planet.