As many of you know, the world is going through a transition, and solar energy is becoming a popular energy source. However, many people have not switched to new batteries for solar power and are still using old batteries. This article discusses why people should switch to SAKO's high quality lithium-ion batteries.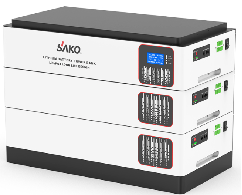 A Brief History of SAKO
SAKO started in 1993 and has focused on China's power supply manufacturing for 28 years, providing overall solutions for manufacturing components, inverters, controllers, batteries, etc. We have manufacturing plants in Shenzhen, Dongguan, Hangzhou, Wenzhou, and other places. SAKO is a national high-tech enterprise and won the title of China's Excellent Manufacturer in 2020. SAKO company and its products have export qualifications; SAKO has obtained ISO9001, ISO14001, CE, CB, CQC, and other certificates. SAKO products are popular for their stable quality and good service. With rich experience, strong R&D capability, strict quality control system, and creative spirit, SAKO can provide users with reliable solar energy products and services.
Reasons to switch to SAKO batteries:
SAKO lithium-ion batteries have a long service life. SAKO has strong research and development capabilities and rich experience in research and development, and the service life of SAKO lithium-ion batteries has been developed to be very long. This makes them an excellent choice for applications where reliability is critical, such as powering battery packs for solar panels.
SAKO lithium-ion batteries can withstand repeated charging and discharging. Unlike other secondary batteries, lithium-ion batteries do not use chemical reactions to generate electricity, so the aging of the electrodes is less than other secondary batteries, and it is very resistant to repeated charge and discharge.
The SAKO lithium-ion battery can be charged quickly. A great feature of SAKO lithium-ion batteries is that they can be charged quickly. Unlike batteries such as nickel-metal hydride batteries and nickel-cadmium batteries, which are difficult to judge whether they are fully charged, lithium-ion batteries can be judged by the charger to be fully charged, so they are practical.
SAKO batteries are specially designed for solar energy storage. SAKO batteries are manufactured with precision and quality in mind and are designed for solar energy storage so that the batteries can perform optimally in specialized fields.
Conclusion
SAKO is a manufacturer specializing in R&D, sales, and service of high-quality power and solar products that can bring users a great battery usage experience.