SAKO's high quality lithium-ion batteries are among the best in the market. They have many properties that make them suitable for various energy storage systems, from solar panels to solar off-grid systems. This article provides insights into how they differ from other products of the same type, why they are safe to use, and their benefits.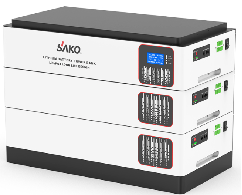 How does the battery work?
The Sako battery's unique design makes it the most powerful battery on the market. SAKO's lithium-ion batteries have a structure in which a lithium-containing metal compound is used in the positive electrode in advance, and carbon or graphite that can absorb and store lithium is used in the negative electrode. Through such a structure, the lithium-ion battery produced by SAKO can generate electricity without the need to melt the electrode with an electrolyte like traditional batteries, thereby slowing down the aging of the battery itself, saving more electricity, and increasing the number of charging and discharging.
Why choose SAKO?
SAKO is a manufacturer specializing in R&D, sales, and service of high-quality power and solar products. SAKO company and its products have export qualifications. SAKO has obtained ISO9001, ISO14001, CE, CB, CQC, and other certificates. SAKO products are popular for their stable quality and good service. With rich experience, strong R&D capability, strict quality control system, and creative spirit, SAKO can provide users with reliable solar energy products and services.
In conclusion
SAKO Batteries are one of the most popular and trusted battery brands today. Their lithium-ion batteries have a solid reputation for reliability and performance.