In today's fast-paced business world, efficiency is crucial for success. From optimizing operations to reducing costs, businesses are constantly seeking ways to enhance their efficiency. One area where efficiency can make a significant impact is in energy consumption. This is where SAKO's 300W Flexible Solar Panels come into play. With our innovative design and exceptional performance, these solar panels are empowering businesses to harness the power of the sun efficiently. Let's delve into the features and benefits of SAKO's 300W Flexible Solar Panels and discover how they can revolutionize your business's energy infrastructure.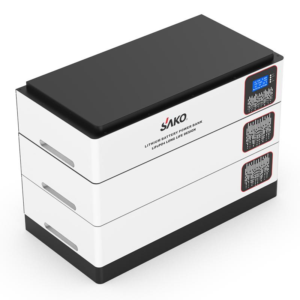 Introducing SAKO's 300W Flexible Solar Panels
SAKO has established itself as a reputable provider of innovative solar solutions. With years of experience and a commitment to excellence, SAKO has become a trusted name in the industry. Our 300W Flexible Solar Panels are designed to meet the unique needs of businesses, delivering optimal performance and efficiency.
Highlighting Key Features of SAKO's 300W Flexible Solar Panels
One of the standout features of SAKO's solar panels is the industry-leading warranty we offer. With a long-term peace of mind, businesses can rely on the transferrable power output warranty, which guarantees 10 years at 90% power output and 25 years at 80%. This remarkable warranty reflects SAKO's confidence in the quality and longevity of our products.
The low moisture permeability back sheet is another notable feature of SAKO's solar panels. This back sheet protects against snail trail defects caused by moisture, ensuring the durability and reliability of the panels. By incorporating this feature, SAKO enables businesses to have solar panels that can withstand challenging environmental conditions while maintaining optimal performance.
To ensure the highest level of protection, SAKO's 300W Flexible Solar Panels are equipped with a high-quality junction box with IP67 protection grade. This protection guards against dust and water ingress, making the panels suitable for various applications. Businesses can have peace of mind knowing that our solar panels are safe and protected, regardless of external factors.
Empowering Businesses with High Performance Solar Panels
SAKO's 300W Flexible Solar Panels are engineered to deliver outstanding power efficiency, even under weak light conditions. This exceptional performance allows businesses to maximize energy generation throughout the day, reducing their reliance on traditional energy sources. By harnessing the power of the sun efficiently, businesses can optimize their energy consumption and contribute to a more sustainable future.
The panels also demonstrate impressive mechanical load resistance, capable of withstanding loads up to 5400 Pa. This resilience ensures that the panels remain durable and reliable even in harsh weather conditions. Businesses can trust SAKO's solar panels to perform consistently and provide long-term benefits.
Additionally, SAKO's solar panels are equipped with an anti-reflective coating on the glass surface, increasing module efficiency by up to 2%. This means businesses can generate more electricity from the same panel area, maximizing the return on investment. Furthermore, the self-cleaning function of the glass reduces maintenance requirements, ensuring optimal performance with minimal effort.
Conclusion
If you're ready to transform your business's energy infrastructure and harness the efficiency of solar power, reach out to SAKO today. Our knowledgeable team is available to provide further information and answer any inquiries you may have. By choosing SAKO's 300W Flexible Solar Panels, businesses can access cutting-edge solar solutions designed to optimize efficiency and drive long-term sustainability.
Visit SAKO's website to find contact details for direct communication with their team of experts. Don't miss out on the opportunity to power your business with efficiency. Contact SAKO now and discover the transformative power of our 300W Flexible Solar Panels.