SAKO 470W-510W PV module 
         SAKO 470W-510W PV module with 10bb half-cut mono Perc cell technology with multi bus-bar design, improved cells efficiency and get higher output power. The module efficiency up to 21.02%. Such panel can reduce energy loss caused by shading due to new cell string layout and lower cell connection power loss due to half-cell design. It can also have more power output in weak light condition such as cloudy, morning and sunset. Even in harsh environment they can works well. Lower operating temperature and temperature coefficient increases the power output. It is tested that 2% more power generation, lower LCOE. SAKO 535W-550W PV module is the ideal choice for high quality power station and home system.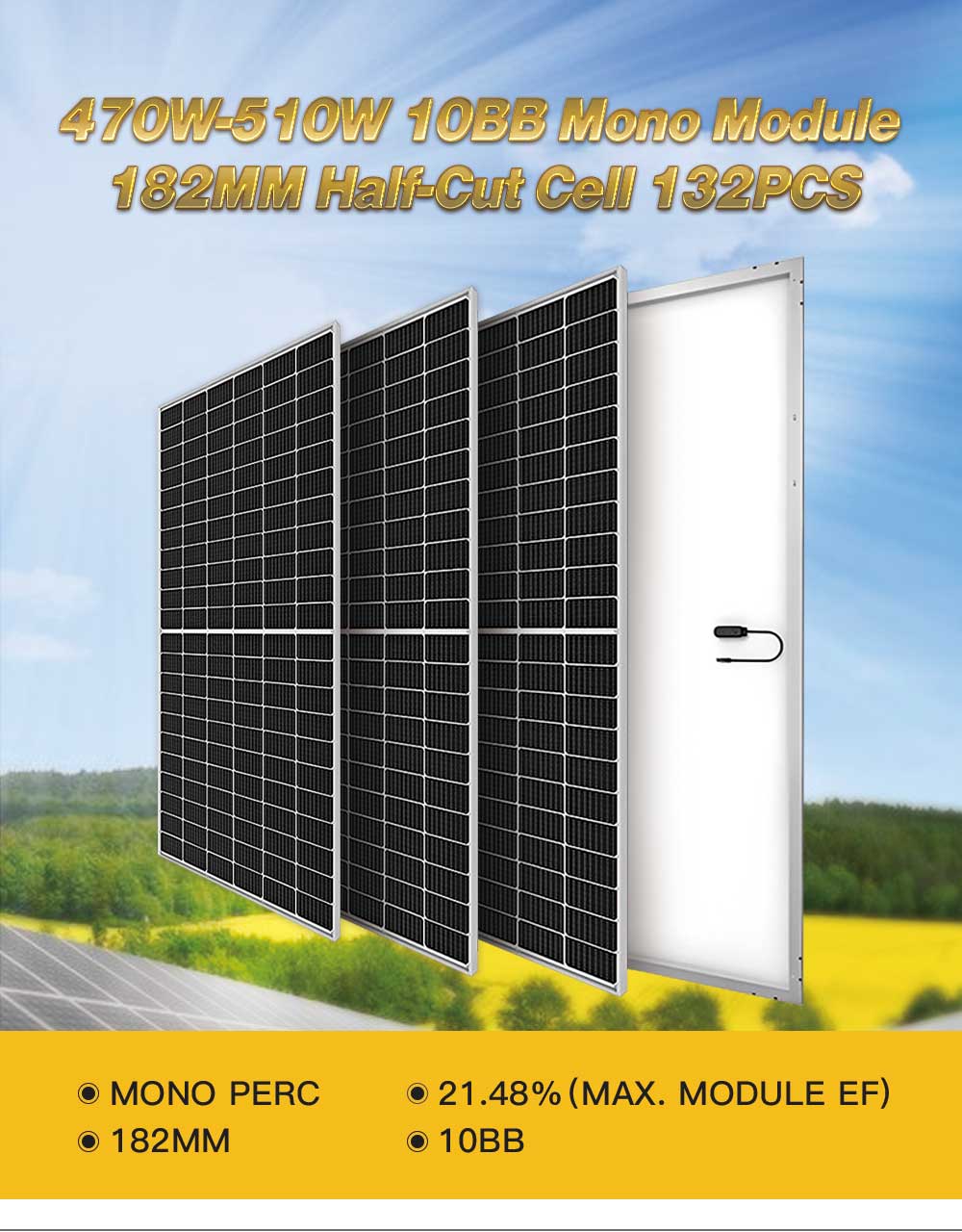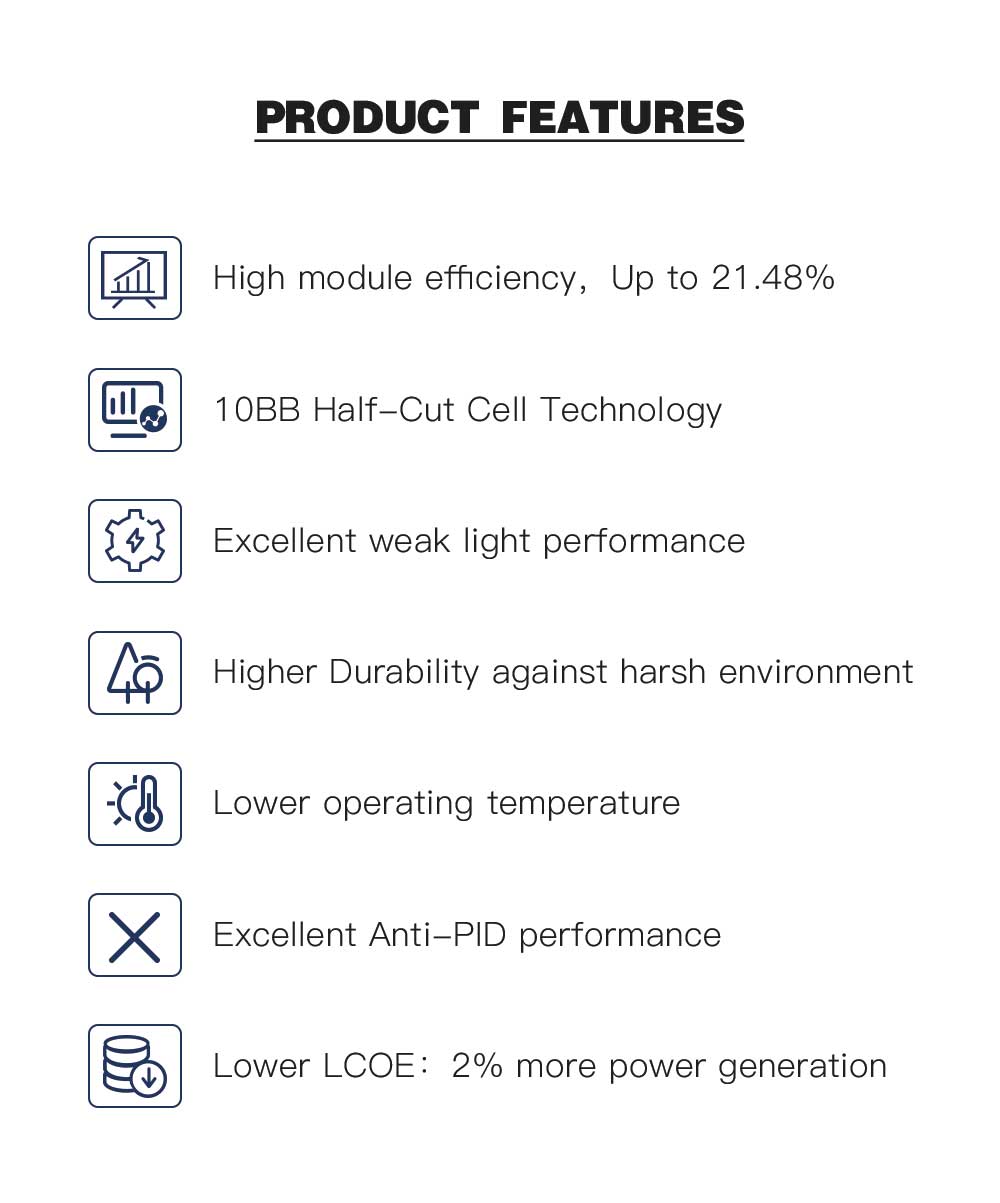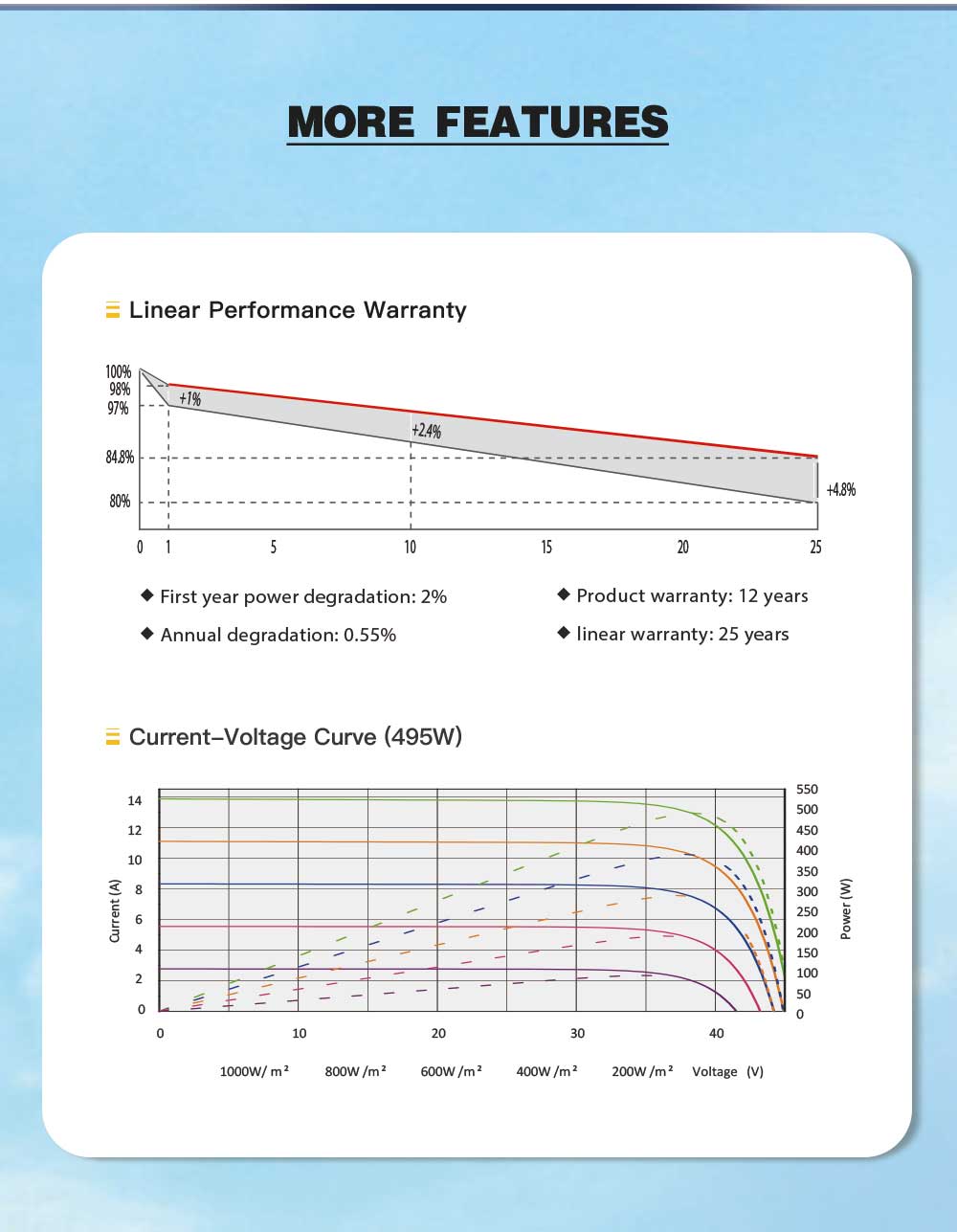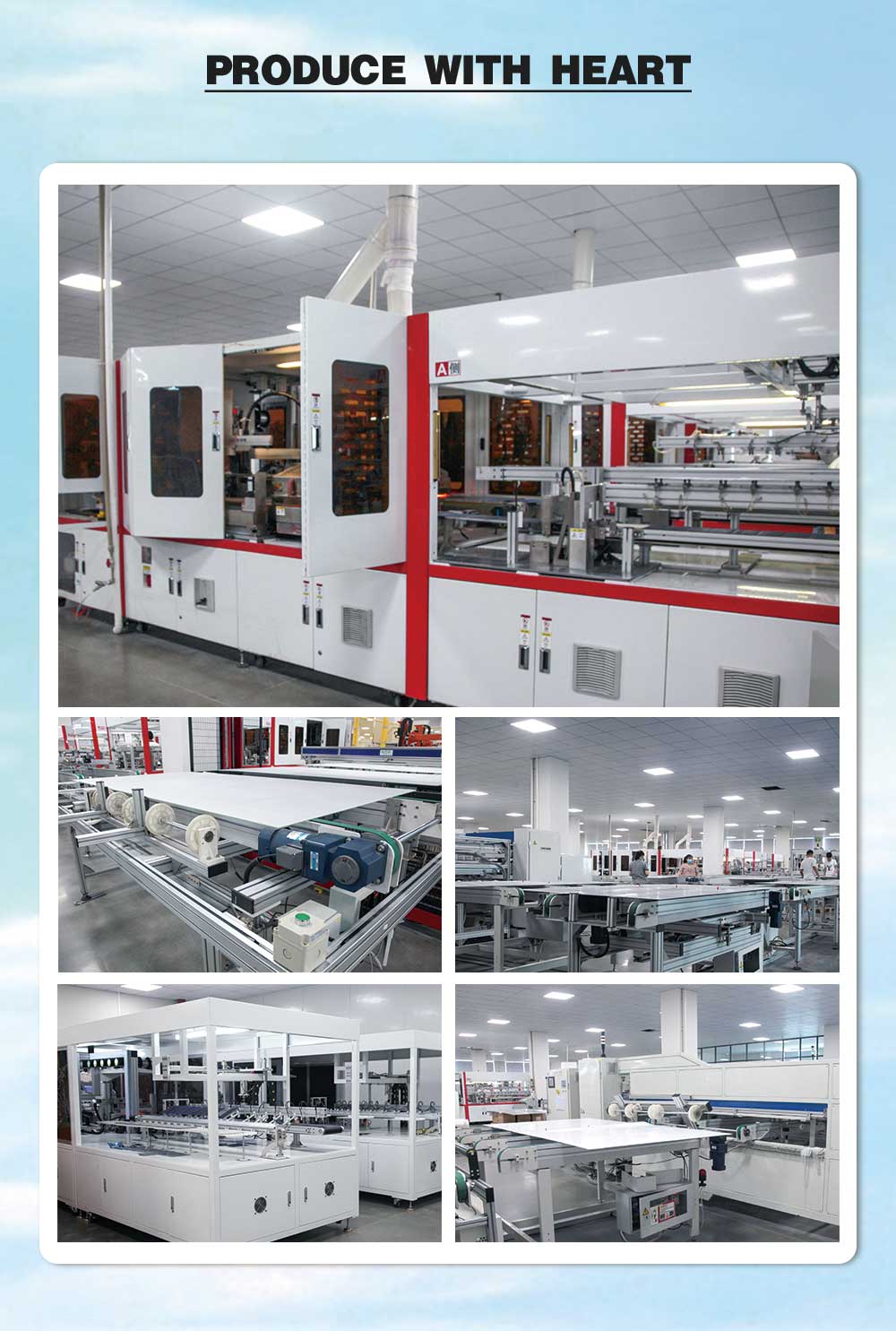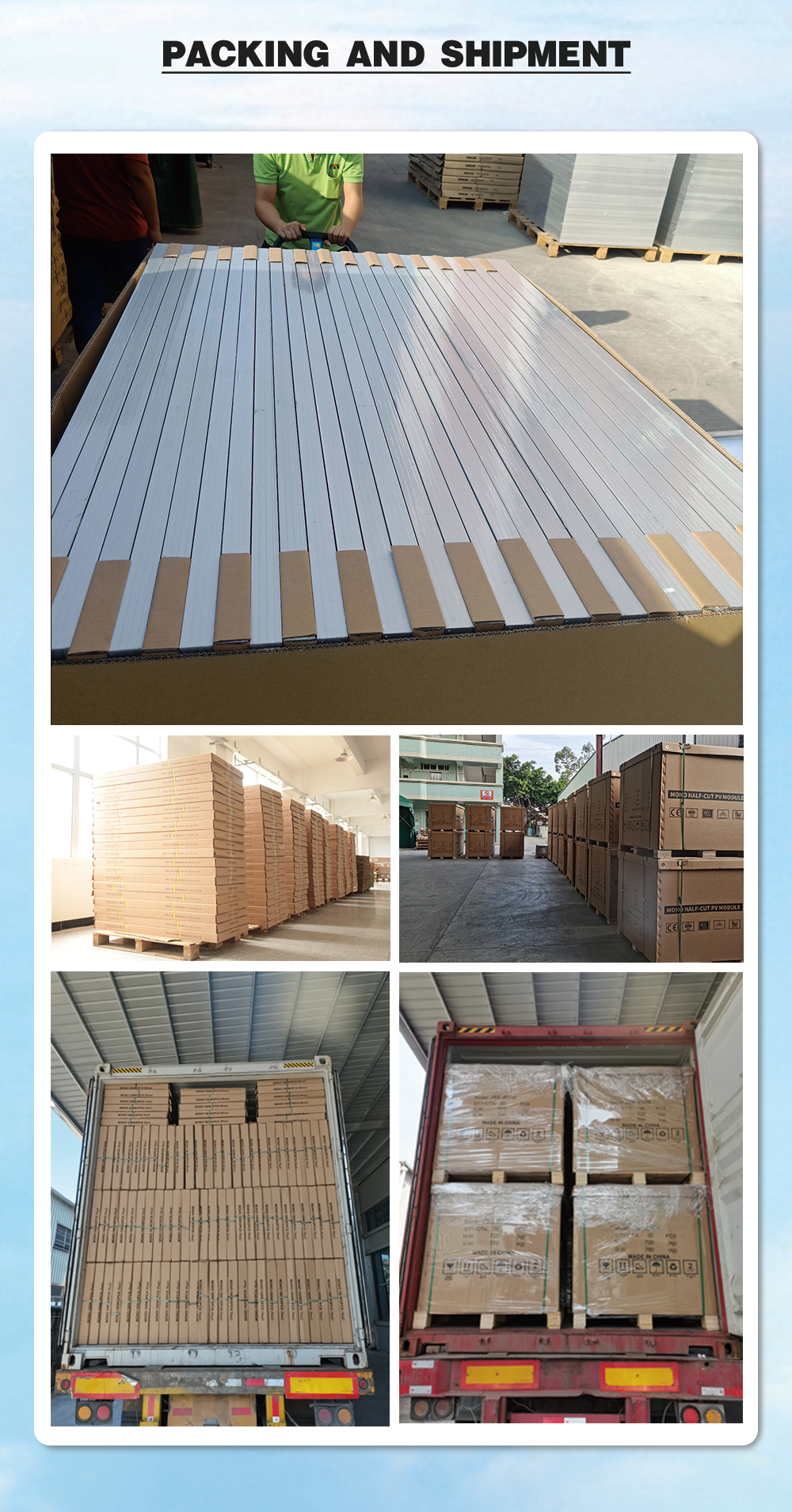 ELECTRICAL PERFORMANCE
Electrical Parameters at Standard Test Conditions(STC)
Module Type
SK-530P8-144M
SK-535P8-144M
SK-540P8-144M
SK-545P8-144M
SK-550P8-144M
Power Output (Pmax/ W)
530W
535W
540W
545W
550W
Power Output Tolerances
±3%
±3%
±3%
±3%
±3%
Module Efficiency (ηm )
20.50%
20.70%
20.89%
21.09%
21.30%
Voltage at Pmax (Vmp / V)
40.8V
41V
41.19V
41.38V
41.57V
Current at Pmax (Imp / A)
12.99A
13.05A
13.11A
13.17A
13.23A
Open-circuit Voltage (Voc / V)
48.81V
49.02V
49.21V
49.43V
49.62V
Short-circuit Current (Isc /A)
13.83A
13.88A
13.93A
13.98A
14.03A
STC:1000W/㎡ irradiance,25℃ module temperature,AM1.5g Specturm according to EN 60904-3.
Electrical parameters at NMOT ( Irradiance 800 W/m2 , ambient temperature 20 °C, AM=1.5, wind speed 1 m)
Module Type
SK-530P8-144M
SK-535P8-144M
SK-540P8-144M
SK-545P8-144M
SK-550P8-144M
Power Output (Pmax/ W)
394W
398W
402W
405W
409W
Voltage at Pmax (Vmp / V)
38.5V
38.6V
38.8V
38.9V
39.0V
Current at Pmax (Imp / A)
10.23A
10.3A
10.36A
10.42A
10.48A
Open-circuit Voltage (Voc / V)
46.1V
46.2V
46.4V
46.5V
46.7V
Short-circuit Current (Isc /A)
11.06A
11.12A
11.17A
11.23A
11.29A
Thermal Characteristics
Normal operating cell temperature
NMOT
℃
45±2
Temperature coefficiency of Pmax
γ
%/℃
-0.35
Temperature coefficiency of Voc
βvoc
%/℃
-0.27
Temperature coefficiency of Isc
αIsc
%/℃
0.05
Temperature coefficiency of Vmpp
βvmpp
%/℃
-0.42
Operating Conditions
Max.system voltage
1500Vdc
Max.series fuse rating
20A
Operating temperature range
-40°C to 85°C
Max.static load,front(e.g.,snow)
5400Pa
Max.static load,back(e.g.,wind)
2400Pa
Max.hailstone impact(diameter)
25mm/23m/s
Construction Materials
Front cover(material/thickness)
low-iron tempered glass/3.2mm
Cell(QTY)
144PCS Mono Perc (182MM )
Frame(Materials)
anodized aluminum alloy/silver/clear
Junction box(protection degree)
≥IP65
Cable (length/cross-sectional area)
300mm/4mm2
General Characteristics
Products Dimension(L/W/H)
2279*1134*35mm
Weight
28.5KGS
QTY of per pallet
31pcs per pallet
Packaging box dimensions
2295*1095*1145MM
No. of pallets for 40HQ containers
20 Pallets ( 620PCS, GW.: 940KGS)