With the increase in technology, there has been an increase in changes. This time around, the new technology will be SAKO sunon pro 5.5kw. The good news is that these are a lot better than traditional grid-tied systems, so you can reap the benefits of clean and renewable energy.
Sako sunon Pro 5.5kw is a powerful, quiet and reliable power inverter that has been designed to meet the needs of your business or home. It has five AC sockets, one DC socket and four small round air vents on the top of the unit that allow you to cool off the device and maintain its efficiency for long hours.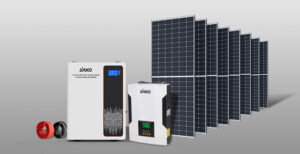 What is an Off Grid Solar Inverter?
An off-grid solar inverter is a device that helps to convert the direct sunlight into usable electricity by spinning a propeller or turbine. Solar inverters can be used in conjunction with solar panels to create an off-grid system, or they can be used on their own to power smaller devices like lights and appliances.
There are two main types of solar inverters: grid-tied and stand-alone. Grid-tied inverters are connected to the grid, so they receive electrical energy from it and distribute it to the devices plugged into them. Stand-alone inverters don't have any connection to the grid, so they have to rely on their own power source (usually batteries).
The main factors you'll need to consider when purchasing an off-grid solar inverter include: your needs (size, type of energy input, output), budget, and location.
What are the Components of an Off Grid Solar Inverter?
The Sako Sunon Pro.kw is a high-power solar inverter that is capable of powering your home or small business with clean, renewable energy. This powerful solar inverter features a built-in battery and charging system, making it the perfect choice for off grid living or remote businesses that need reliable power.
The Sako Sunon Pro.kw comes equipped with a variety of features that will make powering your home or business easy and efficient. The inverter has an automatic switching mode that intelligently selects the best output voltage and current to match the load, so you can be sure your electricity is always delivered reliably. In addition to its powerful output, the Sako Sunon Pro.kw also offers advanced protection features to keep your equipment safe and stable during extreme weather conditions.
Conclusion
solar inverters are essential for anyone looking to go green, and the Sako Sunon Pro 5.5kw is a great option for those who are looking for an off-grid solar inverter that can handle larger loads. This inverter comes with a number of features that make it a compelling choice, such as its high output and low noise levels. If you're in the market for an off-grid solar inverter, be sure to check out the SAKO Sunon Pro 5.5kw!