Are you tired of power outages disrupting your daily life? Do you live in an area with an unstable power supply? If so, an off-grid solar system with SAKO's SUNON-E Series 3 KVA Solar Inverter may be the solution you need. Let's dive into the features and benefits of this reliable and efficient product.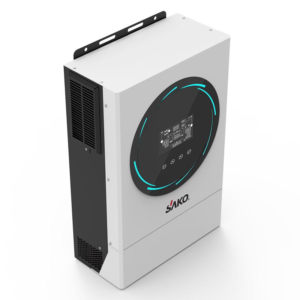 Features and Benefits
The SUNON-E Series 3 KVA Solar Inverter is designed to handle up to 3000W of PV input and is compatible with different types of batteries, including lead acid, AGM, gel, flooded, tubular, and LiFePo4. Its efficient DC-to-AC conversion technology minimizes energy loss and self-power consumption, making it cost-effective and environmentally friendly. Additionally, it has configurable charge current, battery types, and AC/solar input priority via LCD setting, allowing for customization to meet specific needs. The built-in MPPT solar charger and high voltage compatibility make it versatile and reliable.
Remote Monitoring and All-Around Protection
The optional remote wifi monitoring feature allows for convenient monitoring and control from a mobile device using an app. This ensures that you have access to your system's performance anytime, anywhere. The SUNON-E series also offers all-around protection functions, such as overload/short circuit protection, high voltage/low battery voltage, and high temperature protection, providing safety and peace of mind.
Application Scenarios
The SUNON-E series 3 KVA Solar Inverter is perfect for residential use, particularly for those living in areas with unstable power supply. It can provide a stable source of electricity for your home, powering your lights, appliances, and electronic devices even during power outages. Additionally, it can be used for small commercial applications, offering a cost-effective solution for off-grid power.
Installation and Maintenance
Installing and maintaining our SUNON-E series 3 KVA Solar Inverter is quick and easy. We recommend consulting a professional electrician to ensure proper installation and safety. Detailed user manuals with step-by-step instructions for installation, operation, and maintenance are provided. Our products have passed stringent tests, ensuring their quality and performance.
SAKO's Commitment
At our company, we are committed to providing high-quality solar products and exceptional customer service. As a specialist in off-grid solar systems and storage lithium batteries, we offer complete energy storage system solutions. Our strong R&D capability allows us to develop three to five new products yearly, launching them quickly and efficiently.
Conclusion
In conclusion, our company's SUNON-E Series 3 KVA Solar Inverter is a reliable and efficient solution for any off-grid solar system. With its customizable settings, remote monitoring feature, and all-around protection functions, you can rest assured that you have a safe and reliable power source for years to come. Choose SAKO for your off-grid power needs, and experience the difference in quality and efficiency.